Tomorrow, April 13, Catholic Converts is hosting a
"24-Hour Rosary,"
for the intention of more holy vocations.
If you have not already signed up, please do so today! Thank you!
Blessed Mother, your Son predicted,
"I will build my Church,
and the gates of hell
shall not prevail against it."
And yet the evil one has not given up the fight.
Pray for us, your children, that God would raise up
Holy young men, and wise men of maturity,
To gather under the mantle of your protection,
And become the beacons of truth this world is dying to behold.
Dear Lady of the Rosary, hear us now.
Hail Mary, full of grace...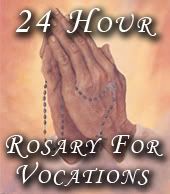 >